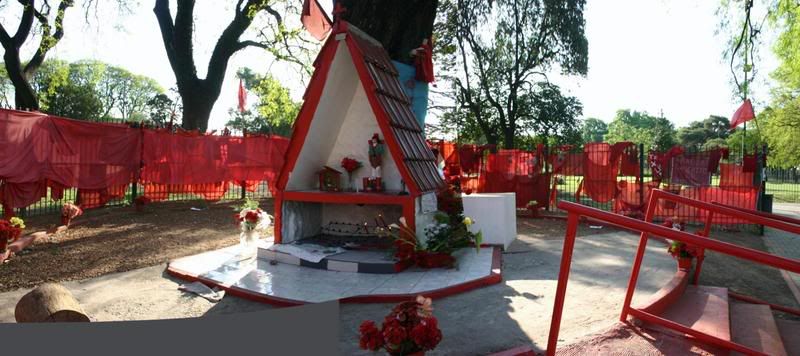 The story of Gauchito Antonio Gil (pronounced "heel") is said to take a few different paths, but the common byline is that he was a Robin Hood figure who stole from the rich to give to the poor.
Legend has it that Gaucho Gil was a farmer who had an affair with a wealthy widow. When the affair was discovered, Gil fled and joined the army to escape the wrath of the townspeople and police (one of whom is said to have been in love with the widow himself). In the time leading up to the Argentine Civil War, he had grown tired of fighting and deserted. Upon returning home, he was detained and brutally executed for his refusal to continue fighting.
One of the lawmen who had been responsible for the death of Gil returned home to discover his son was deathly ill. The lawman prayed to Gaucho Gil and the son's health was restored. The lawman then took it upon himself to give the Gaucho a decent burial.
In Buenos Aires, you will see the image of the Gaucho reproduced in store windows, on trucks and vans throughout the city as a sticker, on flags and painted on businesses. Figurines deck the windows of homes and stores.
On visiting Chacaritas Cemetary, I spotted a large altar dedicated to Gauchito Antonio Gil. It was difficult to get shots without capturing the images of those who had come to pray to the Gauchito which seemed a disrespectful thing to do. Waiting for my chance, I observed a steady stream of people step in to make their requests and give thanks.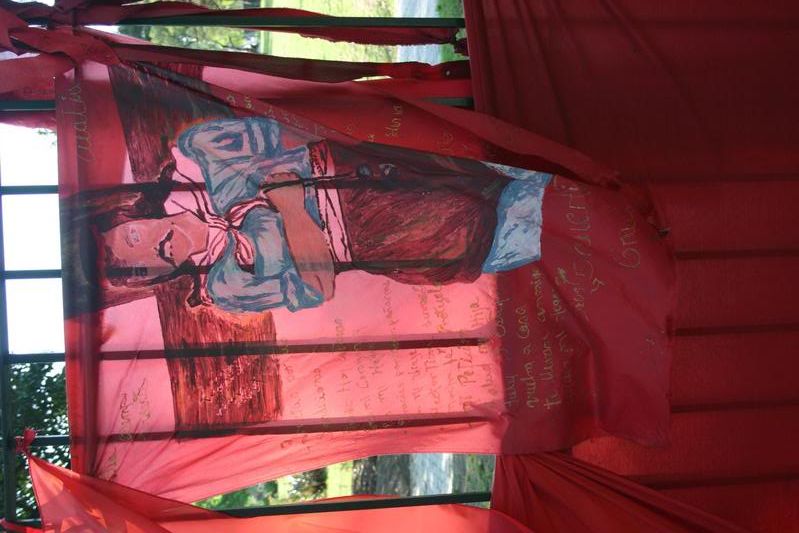 Hand Painted Gil
Illuminated Thanks
Appreciation
Ornate Tribute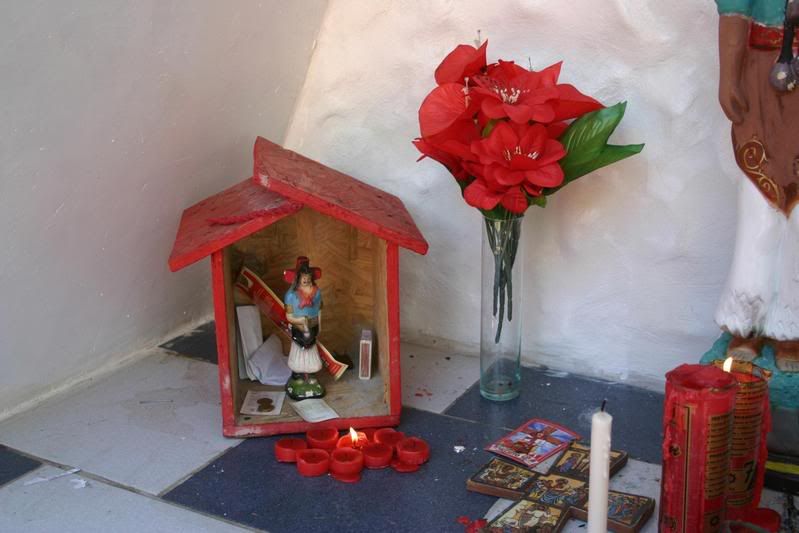 Inside the Altar
Flowers and Red Flags
Another Miracle Fulfilled
The prayer to Gaucho Antonio Gil (from
http://olydan.iespana.es/publifacil.htm
):
Gauchito Antonio Gil: Humildemente te pido intercedas ante Dios para que se cumpla el milagro que tanto necesito. Te prometo que cumpliré mi promesa y te brindaré mi fiel agradecimiento, hoy y todos los días de mi vida.
English translation:
Gauchito Antonio Gil: Humbly I ask you to intercede before God that He will fulfill the miracle I need so much. I vow that I will carry out my promise to give to you my faithful thanks, today and every day of my life.
A Lit Cigarette as an Offerting
Transcribed from my notebook:
A woman sees me taking photos and says the altar must have burned. There was glass and now there's a warning about leaving things that may burn inside. She says she goes to Corrientes every year and Gil is very miraculous.
A young woman lights a cigarette and leaves it burning below the altar. I don't feel right taking pictures of the people inside. I wait for them to finish and write this. But there are so many people. A steady stream since I arrived 10 minutes ago. I feel like an intruder. It's obvious that Gil has a lot of miracles to his credit and loyal believers who continue to return and give thanks and ask favor.
Layers of Thanks in Red
More on Gauchito Gil:
Gauchito Gil on Wikipedia:
http://en.wikipedia.org/wiki/Gauchito_Gil
Gauchito Gil Gallery from Frank Graziano's Website "Cultures of Devotion" dedicated to the book by the same name:
http://www.culturesofdevotion.com/
(Go to Galleries and then Gaucho Gil)
Great Site (en español) with a wealth of info on Gauchito Gil:
http://www.santogauchitogil.com.ar/