Crowd at Club Sacrimento in Palermo, Buenos Aires, Argentina - This was earlier in the night. It became much more crowded later.
All day I was on edge about the elections. I tried what I could to soothe myself. On the long bus trips to and from my volunteer job, I tuned into podcasts of News and Notes and Rachel Maddow. It didn't help that the kids were rowdy as hell. There were two boys in the class I taught and when I told them there was 5 minutes left of class, one of the boys said he was bored. I asked him if he wanted to leave and he said he did and I ended the class. Once I got home, I tuned into NPR and just let it run.
Looking the other way
Always skeptical about the government of the United States, these last two elections have made me disgusted and completely disenchanted. I have been thoroughly conditioned to believe that elections are not made to be won, but stolen - that every policy the United States implements is simply for the sake of making money for the rich without regard for it's own people, never mind the lives of people abroad. I have come to believe that our people can be fooled into cooperating with any foreign policy without protest as long as their basest fears are appealed to in a rainbow of colors of terrorist threat. I had come to believe that the government didn't even need to be clever in concealing this, that no one even cared that they were being blatantly lied to.
It has seemed painfully obvious to me that the demonization of Arab and Muslim people has given the Bush administration the public support necessary to use imperialistic force to attempt to secure the resources of Iraq for themselves and the others who profit . Meanwhile, they branch out into the Middle East, exploiting age old strife there to exponentially increase their net worth and personal power while pouring American tax dollars down the toilet at the expense of our country's educational system, our people's jobs and security and health. They kill in the name of the people of the United States and tell us it's necessary. They tell us it's for our own good, and it has seemed that the country has been lobotomized, nodding their heads. We have been able to focus on minutia and celebrity gossip as the luxury afforded us by virtue of the fact that we are in the United States makes it seem as if the world's problems don't exist.
I have come to view our nation as a land of babies with no spine who care nothing about the world at large as long as Wal-Mart is open 24 hours and cable television remains entertaining. I can't say that I have been that much different - because when you believe that it doesn't matter how you vote or if you protest - when you come to believe that corruption has the upper hand and playing dirty always wins, it's hard to keep caring.
People will say that Obama is not that much different from McCain. I met a woman last night from Norway who says that the two are regarded as being nearly ideologically indistinguishable there. I guess I can see that as being the case as far as our foreign policy looks - at least as far as the Middle East goes. But while McCain seems to relish the prospect of war, Obama appears to view it with more gravity. Obama has a stated date for the withdrawal of our service men and woman from Iraq and seems committed to offering incentives to Iran to cease its nuclear program. Obama has some answers for us.
So when I left yesterday, I made sure to wear blue. I waited for the bus by myself and I felt worried. I could not expect Obama to win, but I could not stop myself from hoping. This feeling was so foreign to me - I haven't risked any hope as far as the United States government goes for a long, long time.
I got to the bar where Democrats Abroad were hosting an event. I did not settle in and talk to anyone. I could not share in the ebullient sentiments of those around me. I had a rock in my chest. I watched the returns for Kentucky begin to come in and saw red.
Oh, Kentucky. You suck.
I felt like the people around me were being incredibly naive when they would cheer to the CNN projections of state wins. I thought, "Jesus, people. It's a projection. It doesn't mean anything." I'd see Obama's smiling face with a green check-mark and the word "winner," and I would focus on that little word nearby: projection. Waves of enthusiasm spread through throngs of people. It was hot as hell. Argentinean television media were covering the event, shining hot lights in an already sweltering atmosphere. It took at least five minutes weaving through people, their bodies rubbing against me on all sides to go from one end of the bar to the other. I couldn't hear the television at all. I was dripping with sweat.
Supporters of Obama as seen on TV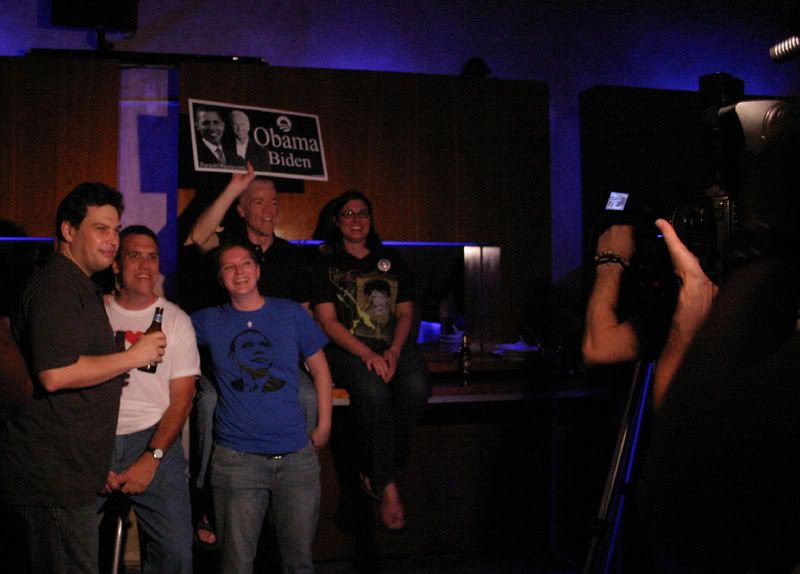 Obama Supporters with the help of the light of the TV crew
At one point I thought, "Is that Princess Leia?" It was CNN correspondent Jessica Yellin "via hologram." I said, "Help me Obi-Wan Kenobi, you're my only hope," to a guy near me. But I think he was German with little English because he did not seem to understand me and I later heard him talking to someone else in a language other than English or Spanish. I was also struck by a Columbian Tourism commercial that stated, "Visit Columbia. The only risk is wanting to stay." Tell that to the civilians killed by the Colombian military and presented as insurgents for a reward.
Was it my attitude that had people from the United States asking me things in Spanish with the worst accents I could imagine? Did I seem too separate from the goings on to be another American? Or is it simply polite to speak Spanish here? Badly conjugated favors were asked of me more then a handful of times, mostly requests for cigarettes. Other than that, I spoke to few people during the 8 hours I was out last night.
Hopeful Democrats riveted by the coverage
The news is looking good
A CNN projection is announced in Obama's favor
At a certain point, the heat and the crowd became intolerable to me. I headed out for another nearby bar that was showing election coverage. I ran into someone I knew outside, but went in by myself. I was brazenly assaulted with a kiss by a guy who seemed disappointed to find out that I was 32. His friend asked me if I was there to photograph the culture of the United States, and I said that I guessed so, if the United States could be said to have a culture. My advanced age did not seem to be enough of a deterrent to prevent the kisser from doing it twice more, though it sent his friend running after he groaned loud enough to be heard in the noisy bar. I had to laugh. Never in my life has a thing like that happened. I had to yell, "no" in the end. The last time, I thwarted him before he got near my face. I know it sounds horrible, but somehow it seemed good spirited. It didn't make me angry.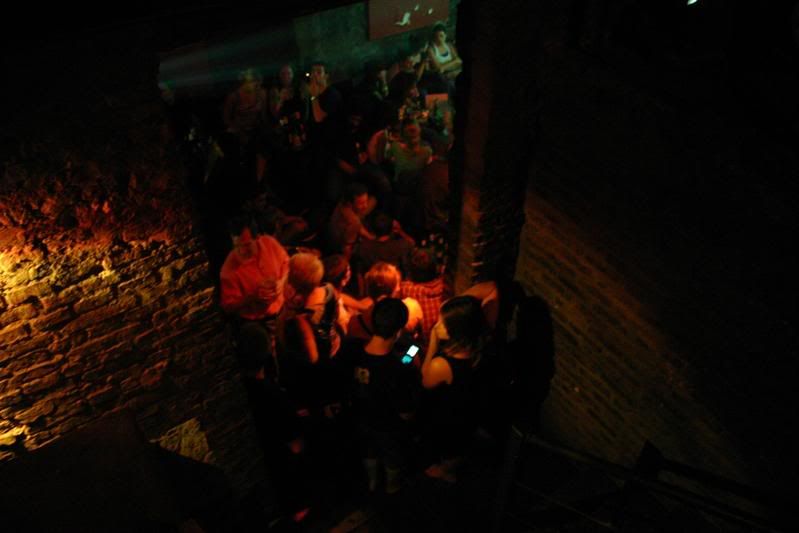 View from down the stairs at Sugar in Palermo, Buenos AIres
This club was just as large, but the area dedicated to the Election was much smaller. Where I stood upon entry to the room had me constantly threatening to stomp on the fingers of a doe eyed guy who kept seeming victimized by my presence. (See there at the bottom of those stairs above?) I kept shrugging and making sure not to lift my foot, opting instead to chance nudging him as I snaked my shoe along the concrete each time someone pushed into me or squeezed between me and the person next to me. If I were able to, I'd have pointed out to him that keeping his hand outstretched in the floor in that high traffic area just wasn't very smart. But if he insisted on sprawling there like some one was going to feed him grapes any second, there was little I could do. Eventually I was able to squeeze into a seat on a hard bench with a lumpy cushion. At this club there was concerted chanting. "Obama" and "Yes we can," and "Si se puede," were often repeated by many. Here again, each projection resulted in an eruption of cheers.
The people behind me (I eventually got the spot of the guy in the brown shirt)
A television personality
The crowd from where I finally sat down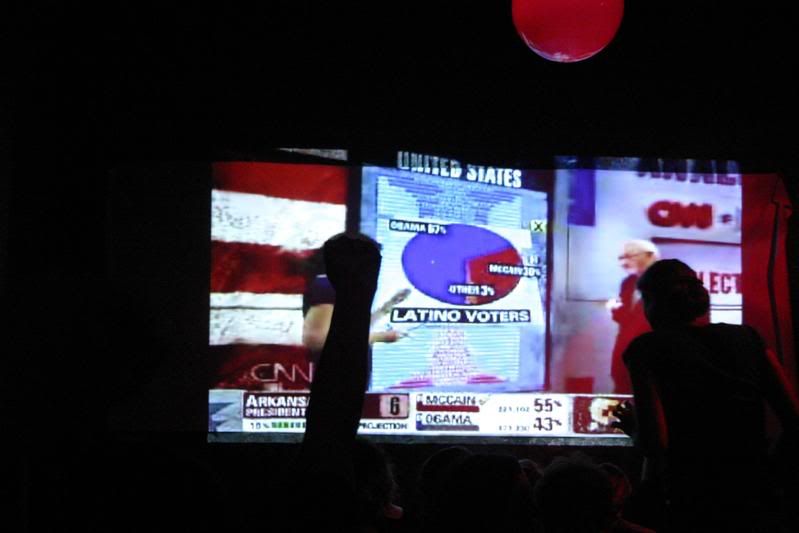 Latino Voters elicited a huge cheer
After quite a while I decided to beat it back to the other club. I didn't want to walk, so I hailed a cab, and it's good thing that I did otherwise I would have missed the announcement that Barack Obama had been elected President of the United States of America. I still didn't believe it until McCain conceded. I was impressed with the absence of pettiness in his concession speech in light of the way the campaign was conducted. I feel like a lot of the vitriol he spouted was orchestrated by his people, but at the same time, what kind of leader allows himself to be puppeteered that way? I think we have gotten a clear answer to that question over the last eight years.
After a wait, there was the President Elect. I tried to stanch my tears, but I could not stop them flowing. I was so inspired to hear the words of Obama's acceptance speech. I was so relieved to see the first family standing in front of the people of Chicago and the United States and the world. I was so moved to hear a leader speaking of personal responsibility and this version of the meaning of the American spirit and way of life. I want to believe that our country is better than it has been. I could not help but think of the children who will grow up, the first president they ever remember will be an inspirational and intelligent leader. They will know nothing of the hateful hypocrisy of the Bush administration. The first president they will ever know will be a black man. These are beautiful things to think of and to believe in.
Back at Club Sacrimento, Obama is announced the winner. I know these photos are poor quality, but they show what it was like: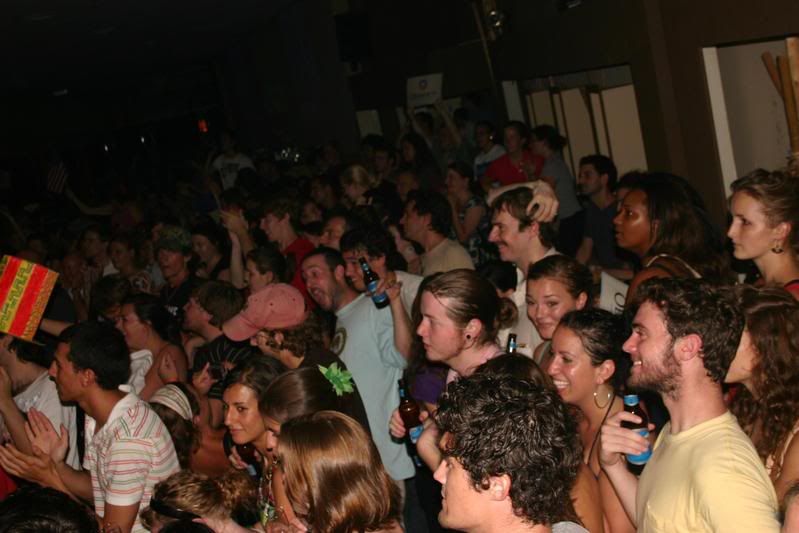 Crowd here, crowd there
I can not help but believe that this administration will do a lot, will be progressive, will continue to inspire people. I feel a new day has dawned, that the American people have finally risen to the occasion and elected someone competent, intelligent, capable and ready to lead and light the way. When Obama's presidency was announced and when I heard the acceptance speech, I realized that I will go back the United States one day. I don't know what else to say. I have hope, and I'm one of the many, and that's saying a lot.